It's like the perfect match and everything you do just amazes you even more. "What's so magical about it?" you're probably asking right now. It's a mix of everything I reckon. The warm-hearted people, the stunning countryside, Tbilisi's nightlife, maybe something else... It's hard to describe but I guess it's the mix of everything.
Technically Georgia is located in Eurasia, but its own people describe it in a very lovely way, it's the balcony of Europe. Yes I think that is true. Balconies are usually my favorite part of an apartment and I fully agree. I arrived with very little expectation but Georgia took me on a journey, taught me how to appreciate nature and showed me what influence people can have on your soul.
A journey into humanity and kindness. A gem between Europe and Asia and a place you will not regret visiting. This is all based on my personal experience and to date if someone asks me this very, very difficult question about the best country I have ever visited, well.... my answer hasn't changed in years and I still say it is Georgia, the country that has left a massive impact on my life as a traveller.
If you are looking for some great flight deals to Georgia, check out Kiwi.
Discover the beauty of Georgia...
Georgia is a beautiful country shaped by rugged mountains, rivers, valleys and meadows. This amazing country lies in the middle of Caucasus region and has unspoiled natural beauty to complement its unique culture. The country is perfect for hiking, trekking, and exploring at a leisurely pace. Quaint villages and towns still dots the countryside while modern cities like Tbilisi, Batumi, and Borjomi are highly captivating and photogenic. Georgia Tourism is steadily emerging and it is still one of the last European wilderness where you can roam freely. You can also enjoy the authentic experiences, be it the local cuisine or interacting with the locals.
There are ample of things to do in Georgia, be it exploring the country on a horse back or simply savouring the delicious Georgian cuisine. The country offers something for every section of travellers. History lovers can see Narikala Fortress, Uplistsikhe, Gergeti Trinity Church, etc. Adventure seekers can indulge in hiking, horse-riding, para gliding, caving, rafting, hunting, etc. Do try the Georgian cuisine and its amazing culinary specialties and check out the nightlife of Tbilisi.
Get ready for a virtual tour of amazing Georgia...
...one of the most stunning places the world has to offer!
no.1 - The nature of Georgia... no words can describe it...
...and I can't do it either you have to find out by yourself!
I have to say that I was pretty amazed when I saw the Caucasian Mountains for the first time. It was an early morning on a bus between Batumi and Tblisi... I woke up and wiped my eyes because I couldn't really believe what I was just seeing there at the horizon. It was a beautiful Friday morning, no clouds, no noise. Just the sun, myself and the mountains.
It doesn't matter where you go but Georgia's nature will keep you speechless. One specific region I will not forget is the Tusheti National Park, a northern slope of the Caucasian Mountains and it kinda reminded me of Scotland, just more beautiful and amazing. It's hard to believe that such a magical place like this is nearly untouched and with no tourists. I think I want to keep it that way and won't tell you more about it, look at the photos and tell me what you think...
Also the highest peak of Europe can be found here, the Mount Elbrus which rises to a height of 5,642 metres. To sum it up there are more than seven five-thousanders in the greater Caucasian Mountain range. Once in Georgia you should really consider a trip into the mountains. They can be easily reached from Tbilisi and are usually just a few hours drive away. It is a once in a life time experience, don't miss out on it!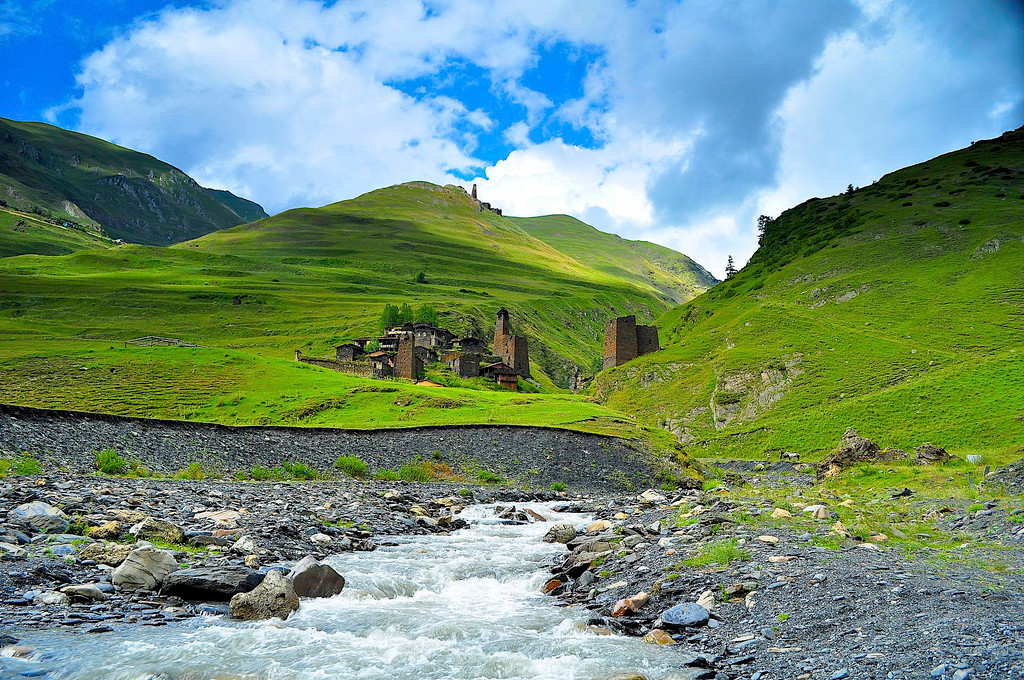 no.2 - The people of Georgia will conquer your heart...
...within seconds and they will treat you like family!
What I experienced in Tbilisi will always remain as one of the greatest human interactions I have ever experienced. It was warm hearted and so touching that I couldn't believe that strangers who I'd just met can give so much to each other. Mankind can create such respect and love for each other and the bond between people can change the world.
My Couchsurfing host Ninchoo, her friend and my German friend Michael went out for a few beers at a pub in Tbilisi. In the corner were a few guys from the National Choir of Georgia. The boys had already had a few beers and started to sing very loudly, it seemed to be normal because they didn't catch my attention. They stopped and everyone applauded. I took the oppurturnity with my friend Michael and we started to sing a German song, I can't remember what it was but everyone suddenly became silent. Everyone was fixated on us but we kept singing...
After we finished everyone in the pub started to shout and to cheer, suddenly everyone started to sing, from the Beatles, to our national anthem and some Georgian folklore songs. It was magical and the boys started to dedicate songs to us and we to them. We hugged, we respected and enjoyed each other presence. It didn't matter what a horrible singer I was, but I guess it was the gesture that mattered. Music is just not a language but also a way of life...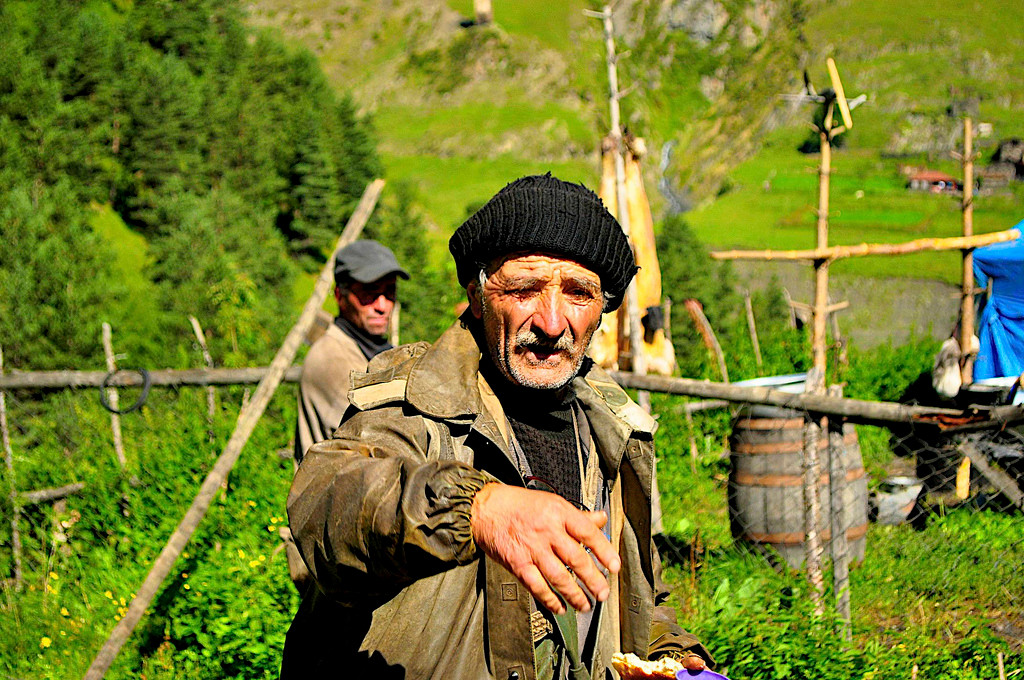 no.3 - The little local markets...
...with yummy, yummy vegetables and fruits!
You'll find them everywhere. Colourful vegetables, fruits, meat, bread... anything and everything you could wish for. Very traditional and even if you don't wanna buy anything you have to visit the markets. It's a place with no price tags and you always have to negotiate the price with very interesting and sometimes very grumpy old ladies who obviously don't speak a single word of English.
It's fun to stroll around these markets and to check out all the things you'll never find from your local Walmart, Tesco or Woolworths. You can't really find such cool individual markets anymore and this is what I loved so much about Tbilisi, it's just unique and very special. All the vegetables are of course Georgian grown and super fresh...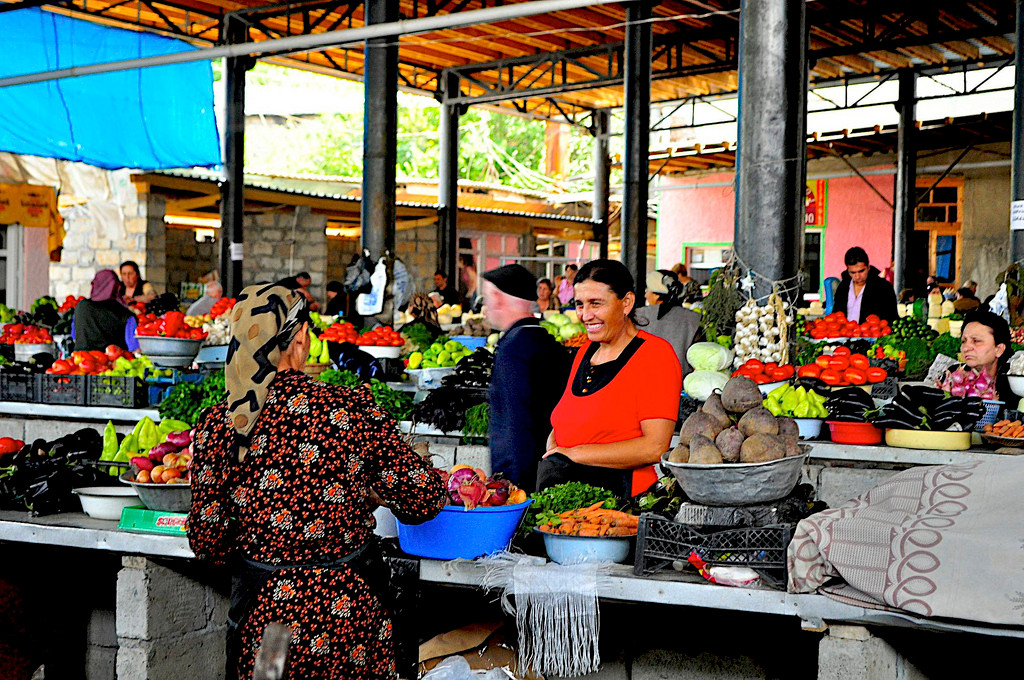 no.4 - Tbilisi is one of the most unique capitals I know...
...and I have been to more than 60!
Why is that? Probably because Georgia is surrounded by so many different cultures and therefore got all the good qualities from each neighbor. Russia in the north, Turkey in the West, Armenia and Iran in the South and Azerbaijan in the East. It's a great mix and you can see a lot of those attributes everywhere around Tbilisi.
But I guess it was once again the people I enjoyed the most. I was always treated very nicely and people would always try to help me. You won't find many western chains such McDonalds or Burger King and the whole city is kept in a very traditional way. Little markets here and there, a few Soviet leftovers and a touch of modern architecture. Tbilisi is changing and is trying to find its very own style.
The nightlife is great, and you will see a lot of young people everywhere. The country itself is very religious and there is a huge respect for the church but it doesn't affect the everyday life of the people like other countries such as Iran for example. There is a new generation taking over, the ones who hadn't experienced the time of Soviet "occupation". It is a new modern city that is slowly opening itself up to the world.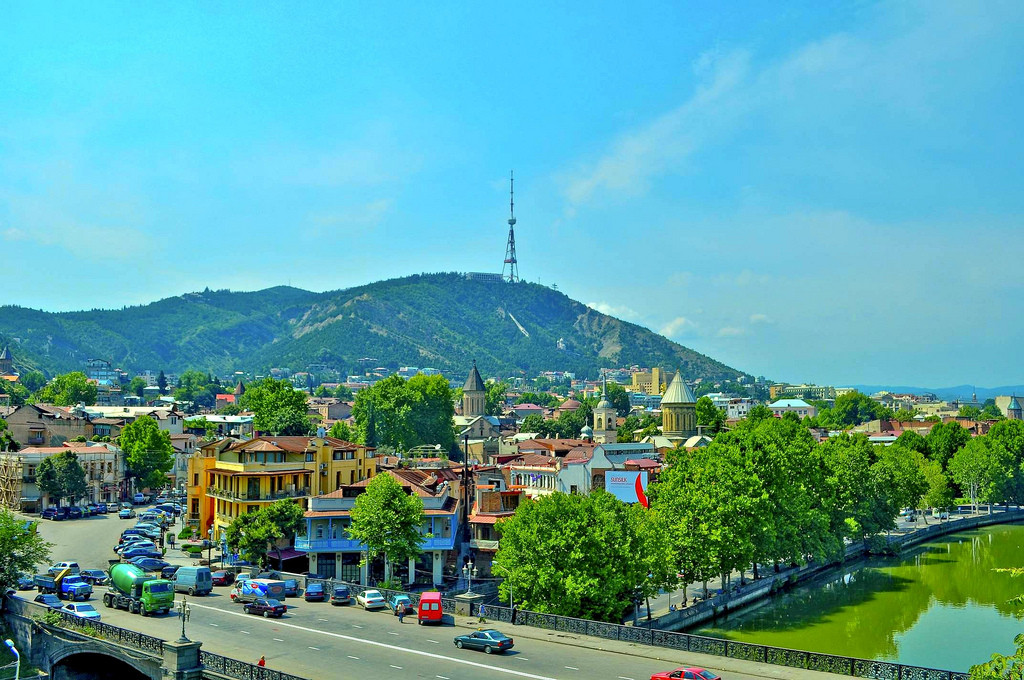 no.5 - The little streets of Tbilisi...
...makes you forget about Paris or Venice!
That was something I noticed when I walked through Tbilisi for the first time. Cute little alleys and streets all over the city. It definitely has its charm and you could almost say Tbilisi is the Paris of Eurasia.
It's probably not written in any Lonely Planet and I doubt there is even one for Georgia but this is something you must do. Take your time and go for a little stroll. You will love it. Make sure you take your camera with you for a few snaps!
no.6 - The beer is good and cheap, so is the food...
...and you won't stop drinking or eating, I promise!
If there is something that makes me love or not love a country, it is of course the price of the beer. If it's cheap, I stay. If it's cheap and good I will probably settle there...hehe. In a normal trendy downtown bar you will get a pint for just two dollars and you'll love it. Georgian beer is as pure as it can be and it is really delicious. Just imagine you can get drunk for just 10 dollars. "Gaumajus" - that's how you say cheers in Georgia!
The cuisine in Georgia is very unique, with both European and Middle Eastern influences. The national dish is called Khinkali, and it pretty much reminded me of Chinese dumplings.
This mouth watering dish is really something you can't get around here. It's usually filled with spiced meat such as pork, beef or sometimes lamb. Now the interesting part, with your first bite you also have to suck the juice out of it, in order to prevent the dumpling from bursting. That's how you do it! Enjoy your meal!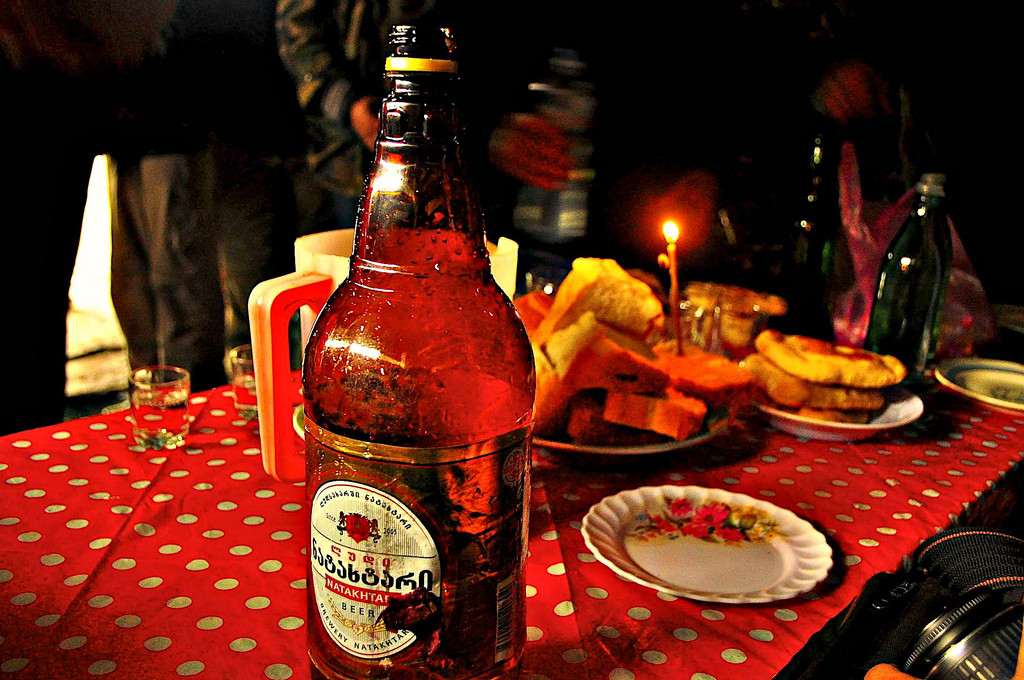 no.7 - You have to visit Kazbegi...
...because it will blow your mind!
You are probably asking yourself what is so special about it. I mean in every village in Europe you have at least two churches... I'm going to tell you why. You find them at the most bizarre places where you won't find anything but sheep and mountains.
There was one church in particular that caught my attention, the Gergeti Trinity Church. It's a very famous landmark in Georgia. It's located next to Mount Kazbegi at 2170 meters above sea level. I couldn't have thought of a better location for a church...
It is very difficult to reach the church though, either you have to go for a very steep hike, which will take you about three hours or you can get a Jeep and drive along the mountain trail, what is probably the better option if you are not into hiking that much...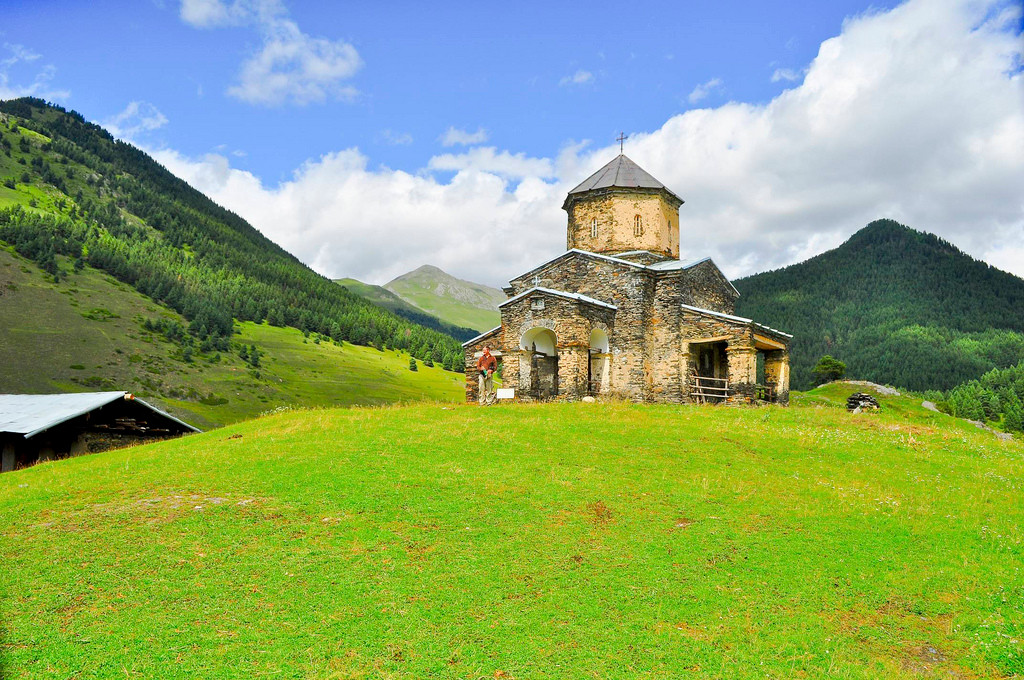 no.8 - Batumi and the stunning Black Sea Coast...
...are probably something you were looking for!
I must admit that I have seen nicer beaches and I do prefer sand instead of stones but Batumi and the Black Sea Coast has its charm. I guess it's the combination of the mountains and the sea just so close to each other. You can go skiing and two hours later you can lay at the beach and work on your tan. Perhaps I should learn how to ski then but I guess that's a different issue hehe...
Batumi has a subtropical climate and the weather is really nice, also in the winter. The city itself has a few architectural highlights. An upside down White House for example or the lighthouse of Alexandria, doesn't that sound fun? It's the new Cote D'Azur of Europe. A few fancy hotels, a nice beach walk and many colourful lights all over the city. A lot of young people come here to spend some nice times at the sea. The most come to relax or just to socialise. There are also a lot of good parties at the beach, don't miss out on them...