Ask the average Georgian about the traditions of this former Soviet nation in the Caucasus and you'll get a rhapsody about calorific 12-hour supra feasts, wine downed at a gulp from hollowed-out rams' horns, loquacious toasts to the Virgin Mary and Saint George, and Kalishnikov-toting mountain shepherds who drink moonshine out of hand grenades. Souvenir stands in the capital, Tbilisi, hawk felt hats and daggers, and the city's restaurant menus are full largely of cheese-drenched khachapuri bread and khinkali dumplings, approximating the rustic mountain style. Until now.
I've lived off and on in Tbilisi for five years now, and I've seen its historic heart transform (though prices remain remarkably low – a room in a guesthouse can be as little as £15, the cost of a decent meal in a midrange restaurant half that). Unpaved alleys populated by stray dogs are now pastel boulevards leading to speakeasy-style cafes. Old-guard restaurants with a casino aesthetic are giving way to more eclectic places catering for middle-class Tbiliseli, rather than wealthy foreigners.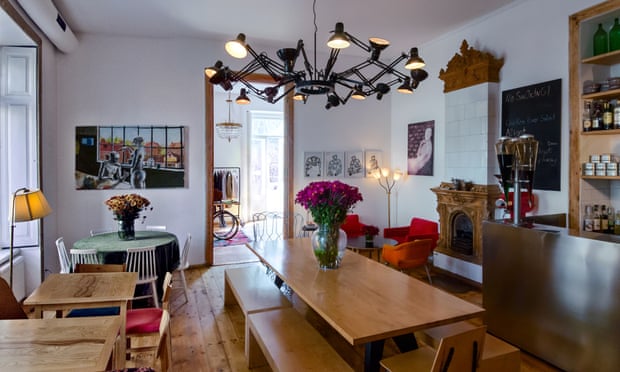 O Moda Moda bar and vintage store
In the wake of regime change – the nationalist Georgian Dream party was elected in 2012, ousting pro-western President Mikheil Saakashvili – one might be forgiven for expecting Georgia to be more culturally conservative than ever. Chef Tekuna Gachechiladze is at the forefront of a cultural revolution: a generation of young, often foreign-educated artists and entrepreneurs who long to revive Tbilisi's 19th-century status as a cultural cosmopolis.
"Georgian people don't like change," he says. "Georgian people don't like me."
Gachechiladze has two outposts – Culinarium (1/17 Lermontov Street, +995 322 430 103), a restaurant and cookery school, and Café Littera, newly opened in the old Soviet Writers' House – from which she challenges what she sees as her country's stagnant cuisine. She serves traditional Georgian river trout as a tartar, and replaces lamb with mussels in her thyme-rich chakapuli stew.
"Look at any 19th-century Georgian cookbook," she says. "Before the restrictions of the Soviet Union, we were using béchamel sauce, and all sorts of European recipes. Look at Café Littera's architecture – all the art nouveau. We were importing ideas from France, from all Europe."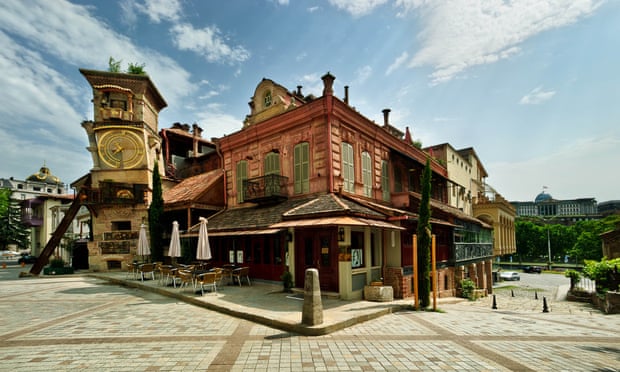 Gabriadze Cafe, nex to the puppet theatre